I know this is only the second post about my accident here on my blog, but it seems like I've been posting about it a lot on social media, and talking about it a bunch in all of my recent videos over at YouTube. I think this will be the last post here which focuses almost entirely on the accident and the ensuing consequences, but it may come up occasionally as an aside in future posts.
Here's a quick recap: on August 27, 2021 I had an accident at my day job that resulted in what the doctors called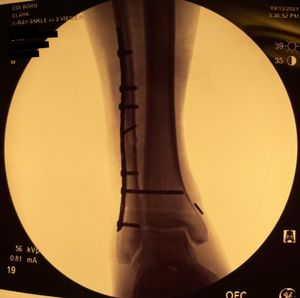 "a substantially traumatic injury." I broke a leg bone, some bones in my ankle, and ripped muscles and tendons in my right leg. It required a three hour surgery to put it back together, and I now sport a metal plate, a bunch of screws, a metal "button" and surgical cord inside my right leg & ankle, holding it all together. I was mostly flat on my back for months, before being allowed to get upright for a while each day. Eventually I progressed to the point that I was able to navigate stairs alone, and I did get back to my guitar. I also managed to make a few videos about recovering my guitar abilities. I did incorporate a little silliness into the videos, but truthfully, that is just me deflecting the brutal nature and seriousness of my injury.
I remained in splints, casts, & surgical "boots" for around four months. You can see pics in my previous post, here. As I write this (January  2,  2022) I am still in a somewhat complex ankle brace, but am able to hobble around without crutches. I'm in physical therapy, and will be for months yet. My therapists are great, and we are making progress but it is slow going. As mentioned in my earlier post, this put the brakes on my promotional efforts for Obscurotica, as well as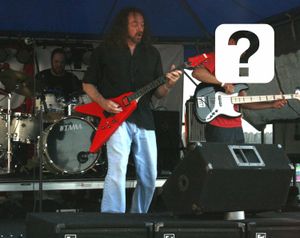 any attempt to work a new bassist into the live band. Have no fear, drummer extraordinaire Joel Baer and I have a plan.
Naturally, the new variants of Covid that continue to pop up are vexing us and performers worldwide, but we are moving forward with the faith that progress is being made in the battle against the spread of that malevolent disease. We plan on beginning rehearsals in a few weeks, with our first shows happening this coming spring. Make sure to check back here often (or join The Secret Club) for updates on concerts. It's going to be awesome getting back on stage and bringing you this new material. If you haven't picked up a copy of Obscurotica yet, please do. Fans are telling me this album makes them feel the excitement of their youth when they crank it up, and I take that as very high praise indeed.
Thanks for dropping by to read this; drop me an email sometime to let me know how your life is going. I'm off to do some ankle exercises, then play my guitar. Until next time, live well & rock hard!