In late August, 2021 I had an accident that essentially destroyed my right ankle. I was just getting into very heavy promotion on social media, print reviews, etc., for my new album, Obscurotica, which came out August 6. Of course, all of that came to a screeching halt the instant the accident occurred. A few days before the accident I had been talking with my friend & collaborator, drummer Joel Baer, about recruiting a bassist so we could take the show on the road, so to speak. Naturally, that plan was also stopped dead in its tracks. If any of you reading this post have been wondering why I kind of vanished right when I should have been pushing my new album like crazy, there's your answer.
I'm sure you're all wondering what happened, and I really don't want to go into every little detail, but I will share the broad strokes. Like many musicians, I've had to take a "day job" in order to make ends meet. While at this day job, I fell and landed very wrong. The fall completely dislocated my right ankle, tore some ligaments to shreds, and broke multiple bones, including the fibula in my lower leg. I spent more than two weeks flat on my back with my leg elevated, trying to reduce the swelling enough that they could perform surgery. This surgery included putting in a metal plate, screws, pins, and some other hardware. Then another two-plus weeks, flat on my back, waiting for the new swelling caused by the surgery to go down before I got a proper cast. So far I have had three different splints, and now the snazzy new cast that matches some of my guitars. Here are some pictures: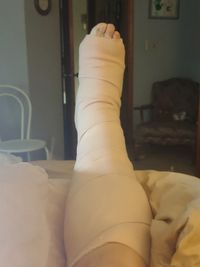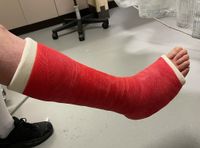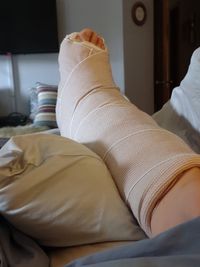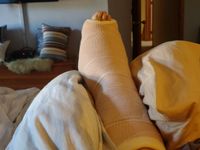 The difference between a splint and a cast is that the splint has an open seam from top to bottom. This whole thing is then wrapped in a flexible cloth bandage, which allows the splint to expand or contract as the inflammation increases or decreases. The cast is completely rigid.
While they are now allowing me to sit up more and hobble to the bathroom on my crutches, I still cannot put any weight on the right leg. I will be in this mode for around a month, then we will see what the next step is and when it might happen. The doctors are pretty confident that I'll be able to walk normally again, the question is when. Naturally, this uncertainty crosses over into everything with putting the band back together for performing. Which brings me to this next bit -
When I posted about the accident on social media, a few folks suggested I could go the route Dave Grohl and Axl Rose went, and perform from a chair. In the case of Dave, it was an outrageous throne that he had custom-built, which he later lent to Axl. I'm sure the folks who suggested this were kidding, but at least one person was fairly serious. Now, keep in mind that Dave Grohl has a major label behind him, a huge road crew, full time assistants, and very deep pockets. Not to mention gigs that are paying him & his band & crew six figure amounts for each show. I don't have any of that. So you won't see me performing from a throne or chair any time soon. Well, not in person anyway. Now that I can get out of bed, I'm going to figure out a way to get down to my studio and maybe knock out some videos. (My house is a nightmare for a guy on crutches, lol.)
Of course, the new flare-up in Covid numbers is going to affect the timetable as well. I saw in the news that quite a few big acts are postponing their tours again because of this. So, who knows when I'll be back on stage. Not this year, I'm afraid.
So, there you have it. All the latest from my world. While I am deeply frustrated by this, I need to look at it from a position of gratitude; I could have broken my back or neck when I fell, and died or been paralyzed for life, but I didn't. And I am grateful. I have access to amazing medical treatment that will, in time, allow me to return to normal or very close to it. For this I am grateful. I have an awesome, loving wife and two sons who are taking great care of me while I convalesce. I am beyond grateful for them. I have many friends, fans, & acquaintances wishing me well and putting me in their prayers. Again, I am grateful. And naturally, I am grateful for you, those who follow and support my career as a musician. Thank you. So I focus on this feeling of gratitude, and remember what my wife keeps telling me: this, too, shall pass.
I'll talk with you all soon. Until then, live well and rock hard.