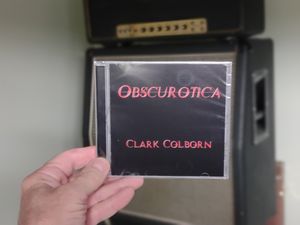 After years of blood, sweat, tears, labor, setbacks, more labor, more delays, and a worldwide pandemic, I am truly thrilled to announce that Obscurotica is finally coming out! It will be available worldwide on August 6, 2021. On that day it will be on my Bandcamp page, on iTunes/Apple Music, Amazon, CD Baby, and many more sites. Naturally it will also be available right here, as well.
Presales and reservations will begin In June, and we'll update you here on my blog. The Secret Club will get notified a few days earlier, and will have the first opportunity to reserve or order a copy. (You can be a part of The Secret Club by clicking here!)  The Secret Club will also be offered some really cool chances to get some free stuff, discounts on existing stuff, participate in a contest, and more. It's cool, you should join.
This album is full of my typical guitar antics, of course, but also features some things I have wanted to incorporate into my music for years, but just never had the right combination of time, gear, and songs come together until now. There are several vocal tunes mixed into the tracks, and my take on a classical piece that was ignited by my visit to Jimi Hendrix's place in London. I'm really excited for you all to hear this, and look forward to interacting with everyone on our way to the official release date.
Until next time, live well & rock hard!