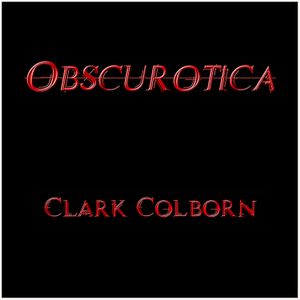 A day or two ago I sent out the newsletter to The Secret Club officially revealing the cover art for Obscurotica, which you can see on the left of your screen. In the newsletter I anticipated some of the questions that were bound to come up:
"Wait - what? Where are the illustrations of mythical creatures and dystopian landscapes? What happened to the dialogue balloons?  Where are the surrealistic photos? Why no controversy spawning pictures of naked people?  Shouldn't there at least be some kind of science fiction thing going on?"
Here are some answers to those questions and more:
I know some people expect any progressive album and/or metal album to have a highly detailed illustration featuring mythical creatures or medieval warriors, or maybe a surrealistic photo or painting. Why didn't I do something like that? Well... how I could I top (or even match) the many, many excellent covers already using that style? I couldn't. And I just don't want this album to have another "me, too" cover, anyway. This album calls for a straight ahead, bold presentation, and this cover delivers that spectacularly. And it does it with some serious style, at the same time.
The typeface is completely unique, and not like anything else I have seen. It has simultaneously a futuristic feel and a classic, nearly ancient vibe. Blood red on a black background, it is simple yet elegant. It's pretty cool, I think. Some folks are undoubtedly wondering why I went away from the "dialogue balloon" theme that I used on Clark Plays Guitar, Again, and Frank Made Me Do It. Well, originally that was the plan. I had a design in mind that would incorporate a Rockford, Illinois landmark with a dystopian landscape, featuring dialogue balloons and some "easter eggs" that had meaning to me and a few of my inner circle. After many hours of introspection and cold analysis I decided to pull the plug on that cover. To the public-at-large that original cover would have made zero sense, and it probably would not have created the desire to find out just what this album is all about. Who's to say if this one will create that desire any more or not, but it probably stands a better chance.
Why not go with something controversial, like nude photos or graphic pictures? That's a huge risk that can really backfire. If I was already a globally recognized artist with a following that numbered in the millions it would probably be totally worth the risk because of the amount of press it would generate. As a near-unknown it would most likely generate zero press, and simply get me banned from many retailers. So, no, that's not the route for me at this time. Maybe if a major label picked me up, but even then it probably would not go as planned. Besides, I had no statement I was trying to make that gruesome or offensive imagery would underscore. To me, that's the time to use that sort of thing, is when it ties into your beliefs or your story, and right now there isn't anything that really warrants that in my story that is relevant to this album.
What about some kind of science fiction theme? Couldn't something like that have worked? I suppose, but since there isn't really anything with a science fiction theme lyrically or musically on this album, what would be the point? It simply wouldn't be relevant, so that takes us back to the blood red ancient-future typeface on a black background. It just fits. When you hear the album, you'll get it.
So there you have it - the inside scoop on the front cover of the CD! Stay tuned for the release date & pre-order info to be announced. I'm going after a label deal, as I mentioned in a previous post, but I have put a time limit on how long I'm going the search go on before releasing at least a limited run on my own label. Obscurotica is coming!
Until next time, live well, be kind, stay safe, & rock hard!