Last month I added a blog post that hopefully brought you mostly up-to-date on the progress of "Obscurotica," my forthcoming album. In the same spirit, today's post is more on what's happening behind the scenes, as the saying goes.
In the last post I mentioned the photo shoot we did with Joel's very talented wife, Kait. Today you get to see some of her work. In this first picture, which might be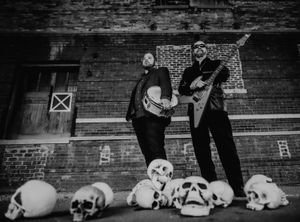 my favorite, Kait captured me and Joel looking stoic behind a pile of skulls. I just really dig this shot! One of the things that I really like about it is the way the skulls are arranged. Here's what is really cool about that: they aren't really arranged at all! I brought a garbage bag full of skulls along to the shoot, and Kait just dumped them out on the ground and that's what you see. She did slide a couple of the ones on the left a little closer to the rest so that they would be in the shot, but she left them in the same position as they were when they hit the ground. It just came out so cool!
Now, I know some of you are cringing because there is a brick wall. For those who don't know why the others are cringing, here's the scoop: once upon a time there was a web site called Rock and Roll Confidential (it's gone now), and it featured the absolute worst of the worst band photos of all time. The site owners absolutely hated band photos with brick wall backgrounds, as they thought it indicated a lack of creativity. They also hated railroad tracks, shots where all the band members are jumping into the air, shots in the woods, shots featuring instruments (other than actual live performance shots), bands wearing their own band t-shirts, and a host of other things. And truth be told, they had some seriously awful band photos. I mean really cringe-worthy, where you can't help but wonder "What in the name of all that is good and holy were they thinking?!?" But - I have talked to professional photographers, PR folks, some semi-famous artists, and here is their conclusion: brick walls are fine in certain conditions. Such as: is the wall itself interesting? (I'd say yes to ours.) Is there something else compelling or interesting about the shots? (Hmmm, well, I think so.) Is the picture well composed? (Yes.) So, I'm good with this shot. I mean, progressive rock royalty King Crimson appeared in Rolling Stone magazine recently, posing in front of a brick wall. Media darlings Daft Punk have posed in front of a brick wall. So, to those of you snickering or thinking rude thoughts because there is a brick wall, get a life, lol. We've got more shots with that wall, and they are all really good. Let's talk about another shot from that day.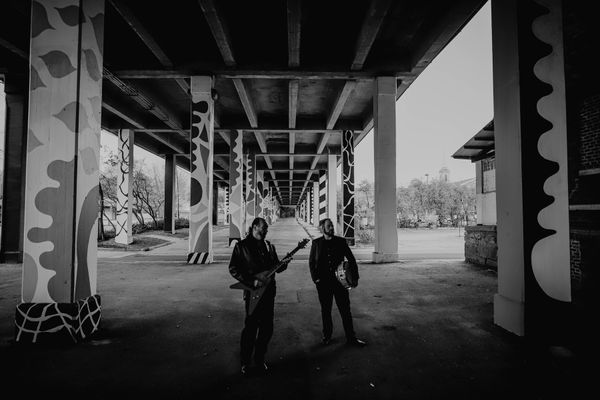 I love this next shot because it almost looks like a fun-house mirror illusion behind us. The skulls are laying on the ground, just out of this shot, but will appear in some other shots that we'll look at another time. The way way Kait framed this shot is just so cool, one cannot help but be intrigued by it.
Probably neither of these shots will be in the standard CD release cover art, but hopefully we will do a special edition some day, featuring some kind of booklet with lyrics, more photos, and more info on the making of the album, and maybe even a bonus track or two. I am fairly certain these shots will be used in the promotion of Obscurotica. As to the release date of the standard CD, we're still trying to figure that out. The covid-19 pandemic has left all of us in the entertainment industry in a state of massive uncertainty and we're just trying to find ways to move forward without making career ending mistakes. As soon as my team & I have a plan, we will definitely loop you in.
Until next time, stay safe, live well & rock hard!