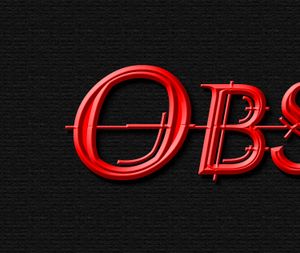 As promised in my last blog post, here is an update on the progress of Obscurotica at long last. To the right is a bit of the cover art. There is more to do in terms of the back cover, inside the front cover & inside the cover booklet, but it is coming along nicely. A couple weekends back we did a photo shoot for the inside of the booklet. Joel Baer's lovely wife turns out to be an amazing photographer! She got so many good shots that I'm having trouble deciding which ones to use for the CD booklet. We may need to do a deluxe version with a multi-page booklet or an interactive disc or something, just so you guys can see more of her awesome photos.
The album itself is in the final stages of mixing. (I know, you're thinking I said that a year ago, right?) Maybe you saw my email back in June about a radical move I decided to make regarding the mixing process. (You do get my emails, don't you?) If not, here's the pertinent part of that email:
"Anyone that has worked with me in the music industry over the last decade or two will find this first bit of news a little (or maybe a lot) surprising: I am turning the mixing of my new record, Obscurotica, over to someone else. That's right; I've thrown in the towel on doing the mix! With all that has been happening in my day-to-day life finding time to finish mixing has been next to impossible. When I actually got to work on it a little, so much time had passed since the last session that I couldn't even remember where I left off & what needed to be done. It seemed like many of the songs were close to being done, but finding the time to get that last 20% or 25% wrapped up was simply not happening. Enter Charles (Chuck) Macak of Electrowerks Studios. He has worked with major artists and headed up Tanglewood Studios before opening up Electrowerks, earned gold & platinum records, and he has agreed to mix Obscurotica! 
Being that I have this reputation for being a bit of a control freak when it comes to my music, this is a big move for me. I have complete faith in Chuck, and am actually very excited to have him involved. Together we'll get Obscurotica finished and released later this summer or early fall."
Well, the release date has been pushed back, partially due to the Covid-19 pandemic, and partially due to a string of very bizarre events that affected Chuck's studio. He got flooded, which stopped all work for a week or two. Then a few weeks later a tornado tossed a tree onto the power lines going into the studio, shutting progress down for a couple of weeks more. Then he had some major things to deal with in his personal life, which took precedence, and we let the mixing go onto a back burner. I wasn't worried about it, as we can't perform live or tour to support & promote the album due to the Covid-19 problem. As things settled down, mixing resumed and we are very nearly done. We're in the final stages of revisions, and the tunes are sounding great. I have not decided on a release date, because of the uncertainty that the pandemic has brought to the entire music industry. Probably early next year, at least that's what my team & I are thinking at this moment in time.
I'll continue to share my thoughts & ideas here on the blog, as well as in my newsletter and a bit on Instagram, Twitter, and Facebook. Thanks for dropping by & checking this post out. Until next time, live well, rock hard, and stay safe.