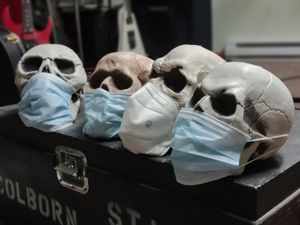 Covid-19. The corona virus. The Pandemic. Whatever you call it, it has wrought havoc on the lives of millions of people worldwide. Regardless of what anyone thinks about its severity or its pervasiveness, its origins, or even if it is real, it is undeniable that it has impacted life as we know it. Forced shutdowns of businesses throughout the USA is causing people to lose so much, in so many ways: small businesses closing up shop forever; families losing their homes because they can't pay the mortgage; some goods and services simply not being available to those who need them, and too many other ways to list.
Even larger businesses like movie theater chains are going into bankruptcy because of this thing, and of course, so are many music venues, small, medium, and large. It's brutal. I read a lot of music industry newsletters & online 'zines, blog, forums, etc., and while they are bemoaning the loss of live music venues, many people are talking about how we artists can turn this lemon into lemonade. Perform online concerts; write, record & release new music; make videos; & on & on. After all, we're all just sitting around the house all day since our day job businesses have closed down, right? Well, not so true for some of us.
My day job has simply become more demanding, and I'm actually working more hours typically now than before the pandemic. So, at least for now, it does not appear that I will be able to perform online concerts. Not enough time to churn out cool new videos or new recordings. In fact, I'm still trying to get Obscurotica wrapped up, and figure out what I'm going to do with it when it's ready to release. (I'll write a blog post about that in more detail very soon.)
So my inner pessimist is really loud right now, shouting me down. I have to admit, when I find time to browse social media and I see all these people posting about how they are recording new music, or practicing their instrument 6 hours a day, or whatever, I'm jealous. Part of me is happy for them, but then that inner pessimist shouts inside my head, railing about how I get hardly any time to practice and generally making me feel pretty hopeless.
When that happens (which is far too often), I take some deep breaths, and focus on all the good things in my life: our home, our good health, my wife & I both having good jobs, my sons and new daughter-in-law, my studio being there for me when things lighten up, friends, fans, pets, musical collaborators, and more. It's all good, and when I think about all of that I stabilize for a while and the inner pessimist shuts up.
If any of you folks reading this have your own inner voices that are messing with you, drop me an email. Maybe I can find some words of encouragement to offer you. Maybe we can buoy each other up a little in this weird time we are in. It may take some time for the world to get back to something close to what we might consider normal, so anything we can do to keep ourselves and those we care about feeling positive is worth doing.
Stay strong. Stay positive. Stay healthy. Be kind. Be tolerant. And until next time, live well and rock hard.