Here's a few pictures of my MXR DynaComp comressor pedal, which I bought in late 1979 or early 1980, and a true story about it. I loved what this pedal did in terms of sustain and making my legato phasing pop, and for a long time, this was my only effects pedal.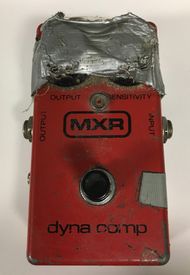 I did have a complaint, though. I would sometimes step on the switch and not be certain if the pedal was on or off because I couldn't feel the "click" through my thick-soled stage boots. (At this point in time no pedals had LEDs on them, as hard as that is to imagine today.) The other thing was that I ran through 9 volt batteries like crazy. So in late 1980 I decided to modify the pedal.
Now, keep in mind that this was during pre-internet times, so I had to figure this out on my own. I found a phone number for MXR and just called them up. I told whoever answered the phone that I needed to talk to an engineer about the Dyna Comp, and they just put me through to someone. In those days, these kinds of things happened. When this guy came on the line I told him I wanted to add an LED light as an on/off indicator, and add a jack for an external power adapter. I was pretty certain of what I was going to do for the power adapter, but needed some help on the LED. I do not remember this guy's name, but he was super cool. He said that he thought an LED on/off indicator was a brilliant idea, as was the power adapter jack.  He said he would need to think on it a little, and if I called back in a day or two he would give me a list of parts I would need to add the LED. My plan for the power jack was sound & did not require any tweaking, he said.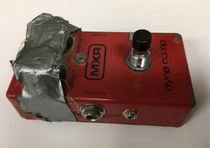 I called him back in a couple days, got the list of parts, and ran down to a local electronics store to get them. If I remember right, I had to replace the switch to do this modification, as well as add a resistor in with the LED. (Any die-hard stompbox geeks will notice that it is not the original switch in the pics, this is why.) In any event, I got the parts, called him back, and he walked me through what I needed to do as I was doing it. I had spread an old towel out on my dining room table, had my tools & soldering iron there, and had the cord for my wall-mounted land line stretched to its limit from where it hung in the kitchen. It only took 10 or 15 minutes, and the mod was done. We talked about music and gear for a while, and he repeated that he thought my two mods were absolutely brilliant. He said he was going to see about having the company add those both to MXR pedals as standard features. By mid or late 1981 all of the MXR stompboxes had a 1/8" power adapter jack and LED on/off indicators. This is all true! So, to the best of my knowledge, I have quite likely the first ever MXR Dyna Comp with an LED and AC power adapter jack!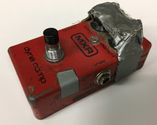 You'll notice the knobs are covered in duct tape. That tape has been there for decades. When I was using this pedal on stage I was also using heavy, coiled cords by a company called Whirlwind. Their coiled cords were really heavy, and I actually used two of them, connected by a double-female 1/4 inch coupler, taped beyond belief in order to keep the cords from separating.  When I would move around the stage (which was a lot, in those days) those heavy coiled cords would sometimes drag across the knobs and change the settings. Since I never changed the settings, I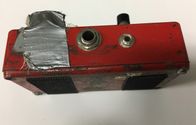 just taped the knobs in place and called it good. When using only this one pedal, my roadies (RIP Kenny Moore, head roadie) would the tape the thing to the stage floor so that I wouldn't be dragging it around the stage during my antics. Eventually I added a couple more pedals, and then I added heavy duty velcro on the bottom (which you can still see in one shot) to all of the pedals, and just attached them to my pedal board that way.
Over the years this pedal and I did more than two thousand shows together. I retired it around 2003, as it is now some kind of collectors item, I've been told. By then, the power jack had been disconnected for some reason that I do not remember, and the foam insulation inside the pedal had nearly dissolved, which could cause damage if I were to put a battery into it or reconnect the AC jack and plug it in. The original flat-headed screws holding the bottom in place have all gone missing, with two round-headed replacements taking their place. I'm not certain what I am going to do with it; it is really no longer a useful tool in my gear collection, but I have so many memories attached to it that I am reluctant to sell it to a collector.
For now it is going to set on a shelf as a reminder of simpler times, and in some ways, better times. Maybe that is as good of a purpose as anything.
I hope you enjoyed this story and the pictures. Until next time, be kind, live well, and rock hard!