About 2 years ago I stumbled across a video of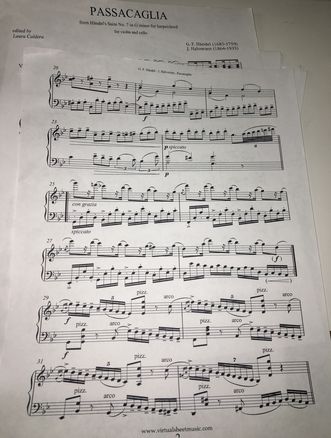 a couple of young ladies playing the Handel-Halvorsen Passacaglia on violin and cello. I had forgotten about this tune, even though I had been exposed to it many years ago, and hearing these ladies just rip through it so impressively was a really pleasant surprise. There are some blazing passages on both instruments, and I thought "Hey! Maybe I should learn some of that on guitar!" Well...
Quick backstory on the piece: In the year 1720 George Frideric Handel published the "harpsichord suite in G minor (HWV 432)," which is, of course, written for the harpsichord (a piano-like instrument). Then in 1894 Norwegian composer Johan Halvorsen published an arrangement of the last movement of Handel's composition for violin and cello. It is considered a virtuoso piece for both instruments. Fast forward 122 years (2016), and you find me floundering about, trying to learn some of the violin parts. Like I said, it is considered a virtuoso piece, and it was truly kicking my butt.
So, I decided that maybe I had bitten off more than I could chew and let it go. A lot was happening in my life, and days of four-to-eight hour woodshedding sessions were a thing of the past. Now fast forward another year, and I'm standing in Handel's home in London. (Well, Mayfair technically.) Handel and Jimi Hendrix lived in the same building, centuries apart from each other, and both homes are now museums. Jimi once claimed to have seen Handel's ghost, and he decided to buy a bunch of recordings of Handel's music while living there.
This whole experience re-inspired me to tackle the Handel-Halvorsen Passacaglia again. And for some reason I have decided to record my arrangement of it for my next album. As of today, I don't know if I can pull it off, but I am giving it my best. I'll keep you posted!

Until next time, be kind, live well, and rock hard!