So, I have a friend named Shawn Williams, and he has a new project which he calls The Core. Last week I had the opportunity to go see him live. Well. Let me tell you, this is the type of thing that makes teenagers want to be rock stars. A seamless blend of technical mastery and visual impact,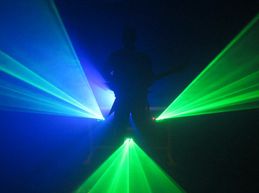 The Core is what live music should be: it's entertaining. The science-fiction inspired visual aesthetic is emphasized through fog and lasers (which are synced with the music, by the way), and the shred-laden guitar will thrill guitarists.  Anyone with a pulse will appreciate the hard rocking, melodically driven tunes in a typical performance. From Depeche Mode to Joe Satriani to originals, Shawn brings his own touch to it all, and every minute of it rocks. There's no dead air; the action never stops. Go see him when you get the chance.
Until next time, live well & rock hard!